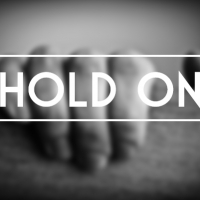 Hold On
by Pastor Daniel Webber | February 20, 2018
The Lord has really spoken two words to me this morning!
"Hold On!"
Life is full of its ups and downs. But we must hold on to what is important to us.
(1) Jesus... If we lose sight in our faith we lose hope for all things.
(2) Love... Hold on to the love that God has put In Your heart for Him, for your mate, your kids and for your neighbor.
If we just do these two things we can change the world and ourselves. So think on these things today and be blessed.
Pastor